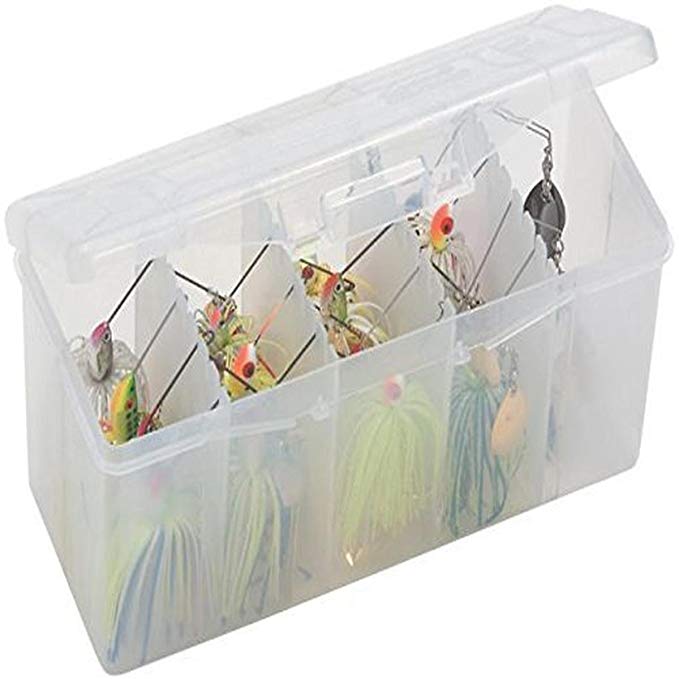 Of all the bass lures, none are as uniquely shaped and difficult to store as spinnerbaits. The shape of these baits don't allow them to fit nicely in the slots of conventional tackle boxes. This is why they should be stored differently than other lures, and the best way to store spinnerbaits is with a spinnerbait box.
These boxes are specifically designed to properly store these wire-framed lures, preventing them from getting tangled or damaged. Spinnerbait tackle boxes also utilize the space very efficiently, allowing you to fit a lot of baits in to a small area.
They also keep spinnerbaits extremely organized so it's easy to find the bait you're looking for. Whether you decide store them by size, color, or blade type, spinnerbait boxes give you that flexibility. Let take a looks at some of the best ways to store spinnerbaits.
Best Spinnerbait Boxes
There are a few different types of spinnerbait boxes that store spinnerbaits in their own way. But there are also ways to retrofit standard utility boxes to store spinnerbaits. This can be done by cutting slits in the dividers for the wire to pass through. This way the blade end sits in one slot and the hook end sits in the adjacent slot.
This only an option if you don't plan on storing a lot of spinnerbaits. Storing them this way takes up a lot of space since you need two slots per bait. So if you need to store more than a few then here are the best spinnerbait boxes to choose from.
Spinnerbait Utility Boxes
This is probably the most popular way of storing spinnerbaits because these boxes will fit in nicely with your other utility boxes. The dividers in these boxes hold the spinnerbaits in an upright locked-in position. You simply pinch the wire frame closed to get it in the slot and it locks itself in to place with the springback force.
Some of the best spinnerbait utility boxes are the Plano Elite Spinnerbait Organizers. These boxes come in the standard 3700 size or the smaller 3600 size. The 3700 box holds up to 39 spinnerbaits and the 3600 box holds up to 18 spinnerbaits.
There is also a spinnerbait/buzzbait combo box that only comes in the 3700 size. These boxes of course store both spinnerbaits and buzzbaits, with a capacity of up to 26 spinnerbaits and 13 buzzbaits.
Hanging Spinnerbait Boxes
Although these spinnerbait boxes don't stack and store well with your existing utility boxes, some anglers prefer that their spinnerbaits are not stored under compression. With these boxes the spinnerbaits are hanging freely on a small internal racking system.
These are the best spinnerbait boxes for fishermen that do a ton of spinnerbait fishing. It's easier and faster getting baits in and out of these boxes than any other spinnerbait box. They also store the most spinnerbaits, with the bigger ones able to hold as many as 70+ spinnerbaits. Like the Plano Hydro-Flo Box below, which has a capacity of 72 spinnerbaits.
Spinnerbait Storage Bags
This is the best way to store spinnerbaits if your main objective is protection from damage. These tackle systems can either be made up of a box, bag, or binder, but the one thing they have in common is they use small bags to hold the spinnerbaits within.
Using this style of spinnerbait storage keeps each lure in its own plastic bag. The bags are usually attached to the box or binder so that you can flip through your collection like turning pages of a book. This is a good choice if you have really expensive spinnerbaits that you want to keep in good condition.