The Red Eye Shad is a very popular lipless crankbait made by Strike King. The biggest attraction, and what sets this bait apart from other lipless crankbaits is how it falls. It is a really well-balanced bait, so it won't roll on its side as it sinks. Instead, it has a really nice fluttering action.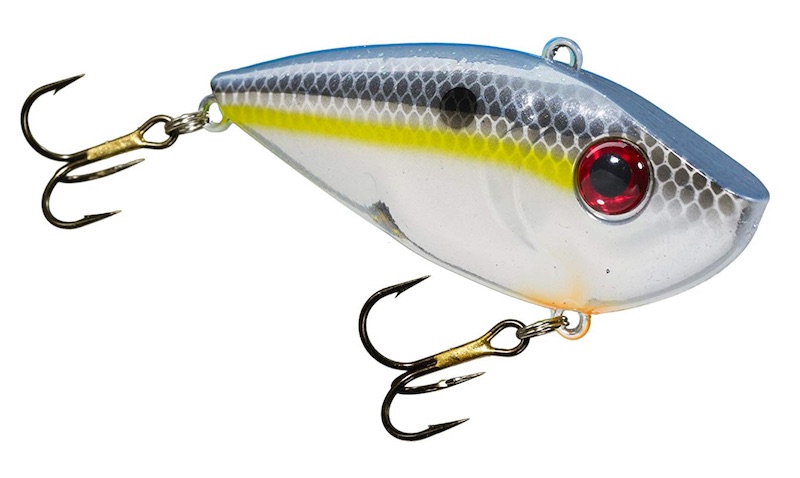 Initially this lipless crankbait only came equipped with red eyes, which of course is how the bait formed its name. However, after it became so popular, Strike King realized they needed to expand their color schemes. This required them to include some more natural-colored eyes, which you will an example of in a photo below.
This lure is heavily endorsed by pro fisherman Kevin Vandam, a well know master of crankbait fishing. In fact, he used the Red Eye Shad to help him win his third Bassmaster Classic in 2010. One of the biggest pieces of advice he always gives is to select the right color by matching the local forage. And with about seventy colors to choose from you should be able to do that.
Types of Red Eye Shad
There used to be two types of Red Eye Shad, a rattling version and a silent version but the silent version has been phased out. The rattling version is now the standard model and "rattling" has been dropped from the title. Since then a new "knocker" version has come out.
As you probably know, lipless crankbaits vibrate rapidly as they are pulled through the water. This vibration is what triggers either the rattle or the knocker to create sound. Let's take a closer look at what sets these two versions apart.
Quick Note: Some of the images of these baits on other tackle sites will show the bait without a split ring. You can rest assured that they always come with a split ring. Just wanted to make that clear before moving on.
Red Eye Shad – Original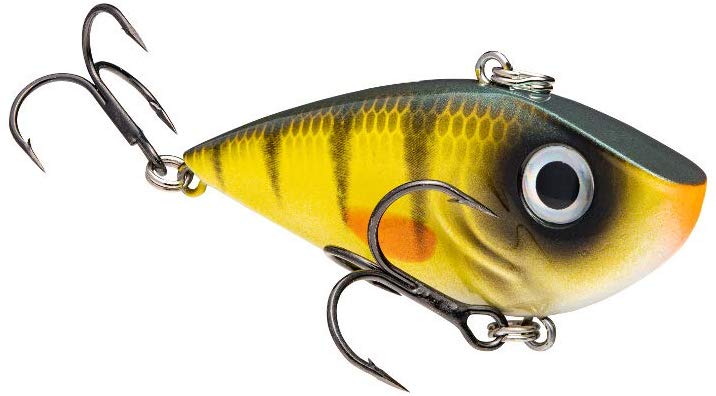 This is the most popular model, and a classic lipless crankbait. It comes in three sizes but the two inch half-ounce model is by far the most popular. The body of the bait is filled with BB's that create a light rattling sound as it vibrates. It comes in three sizes, that have different weights and lengths.
Some images of these
2″ – (1/4 oz)
2.5″ – (1/2 oz)
3″ – (3/4 oz)
Red Eye Shad – Tungsten 2 Tap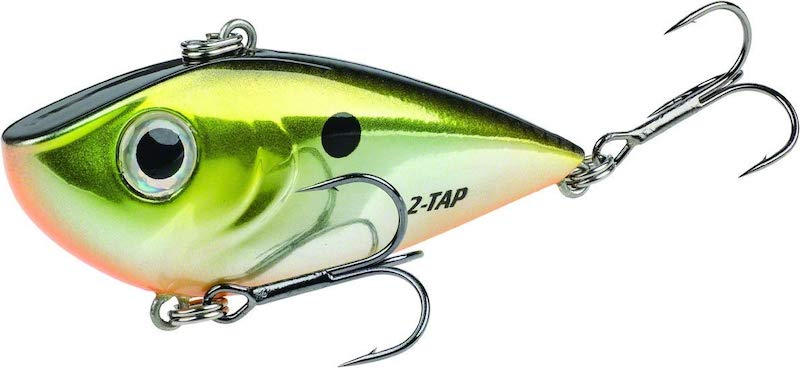 The knocker version of the Red Eye Shad is called the Tungsten 2-Tap, or sometimes called the Red Eye 2-Tap. This bait makes a loud knocking sound as it vibrates in the water. It has a chamber in it with a single tungsten ball that bangs against each side as the bait vibrates side to side.
It looks exactly the same as the rattling version so the only way to tell it apart is this model says "2-TAP" on the side of the bait as you can see in the photo above. And if it's a 2 inch model it can't be a 2-Tap because it only comes in the two larger sizes.
2.5″ – (1/2 oz)
3″ – (3/4 oz)
Treble Hook Upgrades
Like with most crankbaits, lipless or not, you should consider upgrading the hooks. These baits come equipped with VMC treble hooks that are decent. But upgrading the hooks will significantly increase your hookup ratio.