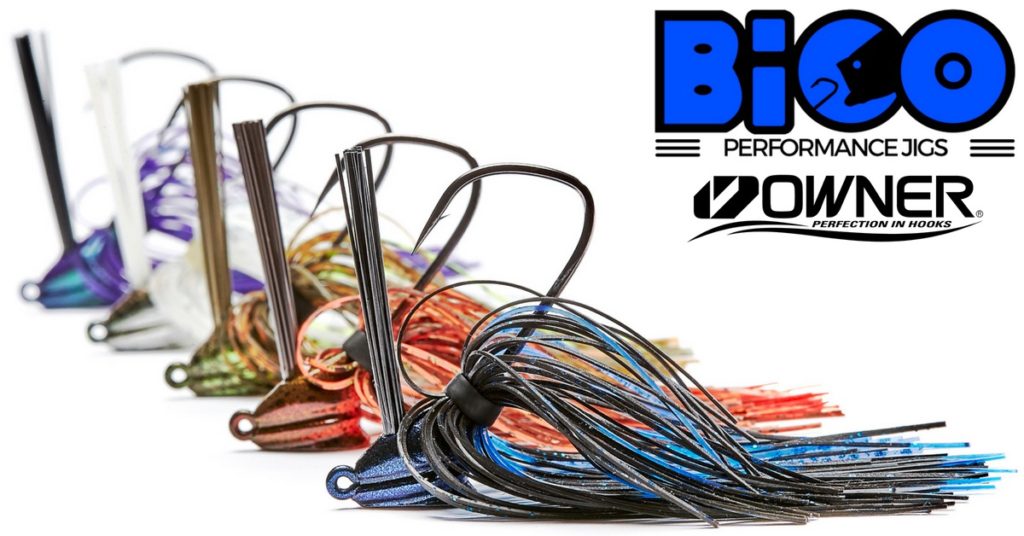 Back in the early 90's, a fisherman and tackle shop owner from Massachusetts designed his own jig he called the BiCO Jig. His name is Bill Quattrucci, and he simply wanted a better performing jig for himself. But the jig soon became a local hit when he started selling them in his tackle shop.
When designing this jig his main goal was performance. He wanted a jig with a the best hooks available, which in his opinion are Owner Hooks, and it's hard to argue that. He wanted a jig that comes through brush and vegetation better than the jigs that were already out there.
Fastforward to today and that jig is now called the Original BiCO Jig, the flagship jig of his brand BiCO Performance Jigs. Amongst the Original are now a lineup of jigs for covering all aspects of jig fishing. They are all available on Amazon and Ebay, or you can order direct from bicojigs.com. Now let's take a closer look at each one and where they excel.
Types of BiCO Jigs

To this day BiCO Jigs are all made in Massachusetts by Bill Quattrucci himself. The craftsmanship is really impressive, these jigs are as durable as jigs come. You're not going to have big chunks of paint peel off or the weedguard fall out like the jigs made on some assembly line in another country.
BiCO created different jig designs for certain situations, but the two things they all have in common is they are made lead-free and equipped with Owner Hooks. The hook itself is a wide-gap deep throat model.
This claw-shaped hook design has a ninety degree bend on it's shank that keeps trailers from sliding down, no keeper required. This also prevents trailers from getting torn at the head as they get pulled down and re-set over time.
Only the BiCO Bomb has a different hook and does contain lead, but since it's slightly over an ounce it's legal in states that ban lead tackle. Here are all the jigs that BiCO Performance Jigs now makes, starting with the one that started it all.
Original BiCO Jig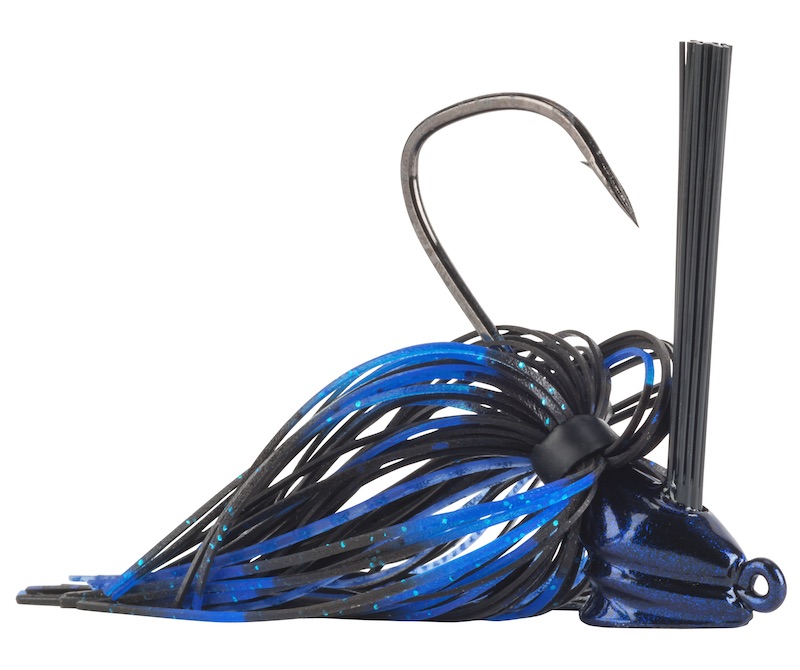 3/8 ounce • 5/0 hook
This is the most popular jig that BiCO makes, mainly because of its versatility. You can target shallow cover on a shoreline, work the bottom in fifteen feet of water, or rig on a paddle tail trailer and fish it as a swim jig. You can literally cover just about all aspects of jig fishing with this jig alone.
The flat-bottom design makes these jigs stand upright on the bottom, giving jig-and-trailer combinations a lifelike presentation. The head also tapers down to a point at the eyelet, allowing the jig to slip through cover smoothly. This is especially beneficial when being fished as a swim jig.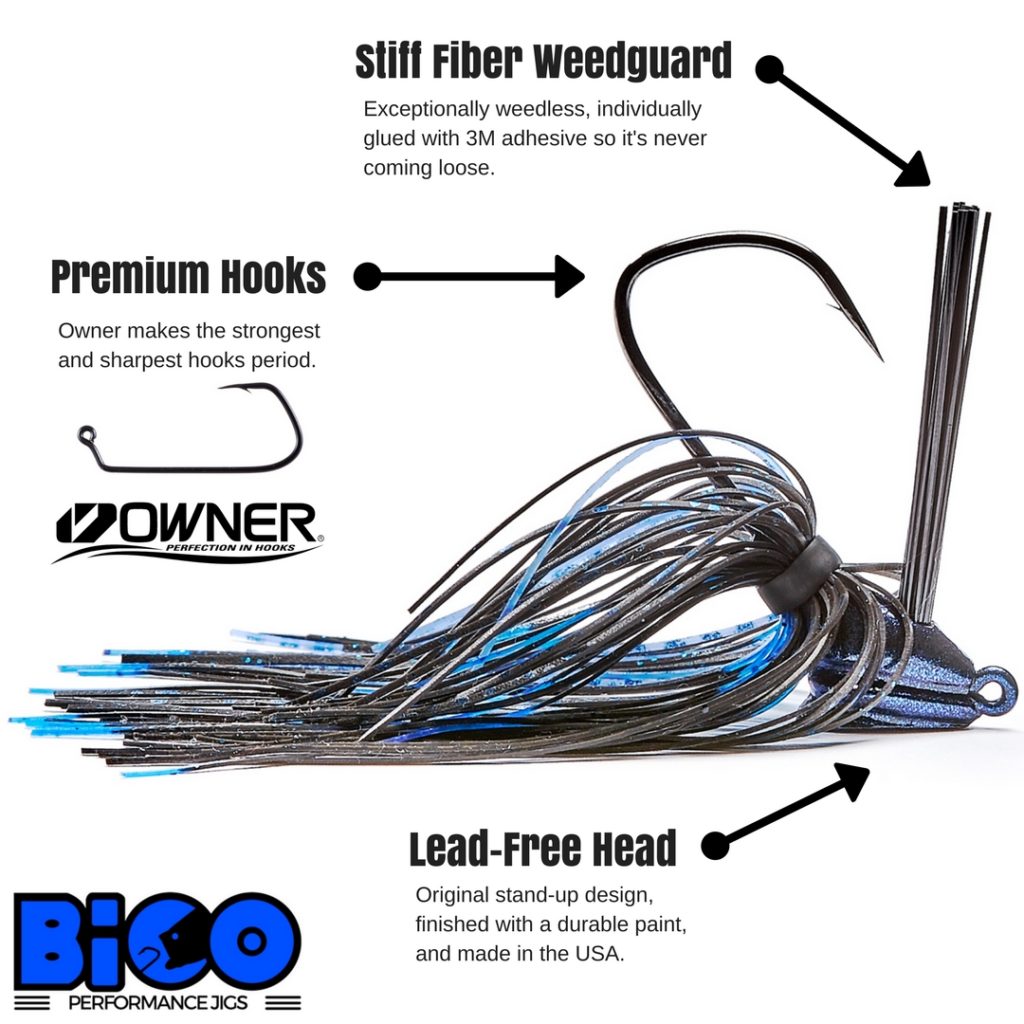 These jigs are exceptionally great for skipping under docks and low hanging trees. The lightweight metal they are made from allows the head to be larger in size without making it too heavy. It's the amount of surface area on the head combined with being lightweight that makes them skip so well.
BiCO Original Jigs feature a stiffer, more elongated weedguard than most fishermen are probably used to. At first glance some anglers may be worried about this causing missed hooksets, but the hook angle in conjunction with the head-design ensures an excellent hook-up ratio. It has the perfect combination of being extremely weedless while having plenty of flex for a solid hookset.
Here's a short video of the creator of this jig talking about it:
---
BiCO Baccarac Jig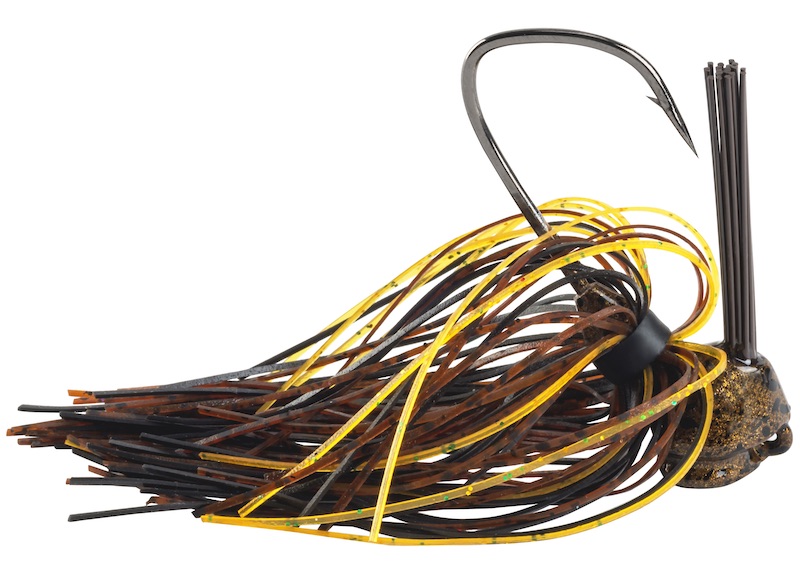 1/2 ounce • 3/4 ounce • 5/0 hook
The Baccarac Jig was originally only made in 3/4 ounce, to target the deepwater monster bass of Lake Baccarac in Mexico. The owner of BiCO Performance Jigs is obsessed with fishing Lake Baccarac, so it didn't take long for him to begin designing a jig for it. Since then he designed a 1/2 ounce version, a more desirable weight for most jig fishermen.
Both sizes of the Baccarac Jig are designed for targeting fish in deeper water, when the Original is simply taking too long to reach the bottom. Because skipping or swimming are no longer necessary once you've switched to working the bottom in deep water, BiCO designed the head to be less hydrodynamic and focused more on stability.
The Original is nice because you can hit deeper water targets if you need to, but if you know you're going to be targeting rock and brush in over ten feet of water all day then the Baccarac Jig is the way to go. It's basically their version of a football jig.
---
BiCO Bomb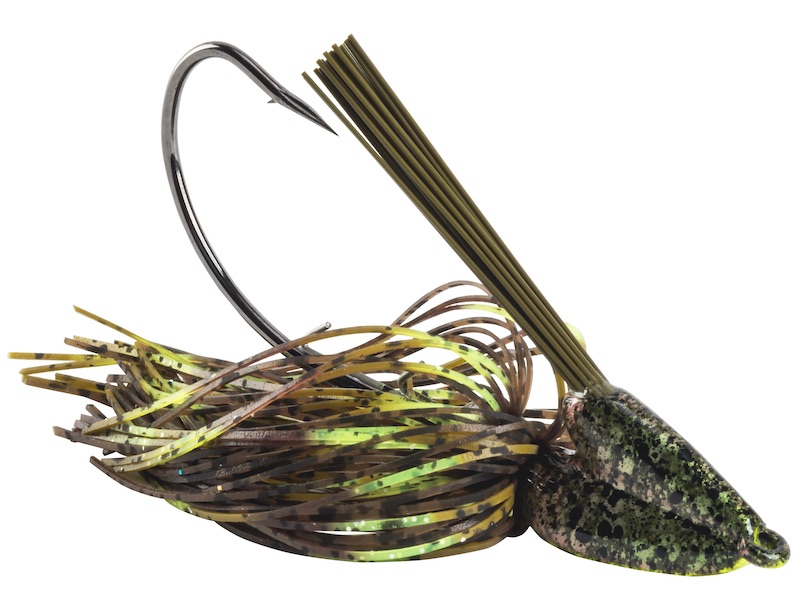 1 ounce • 11/0 hook
This might be BiCO's most impressive bait yet. It's hard to match the punching ability of a pegged plastic with a tungsten bullet weight, but the BiCO Bomb comes as close as any jig ever has. Other so-called "punch jigs" can barely punch their way through lily pads.
This jig however can blast through matted vegetation like a bullet, and pulls back out smoothly without getting snagged. And when it hits the bottom it lands with the hook and trailer facing upright, giving it a good presentation and positioning itself for a solid hookset.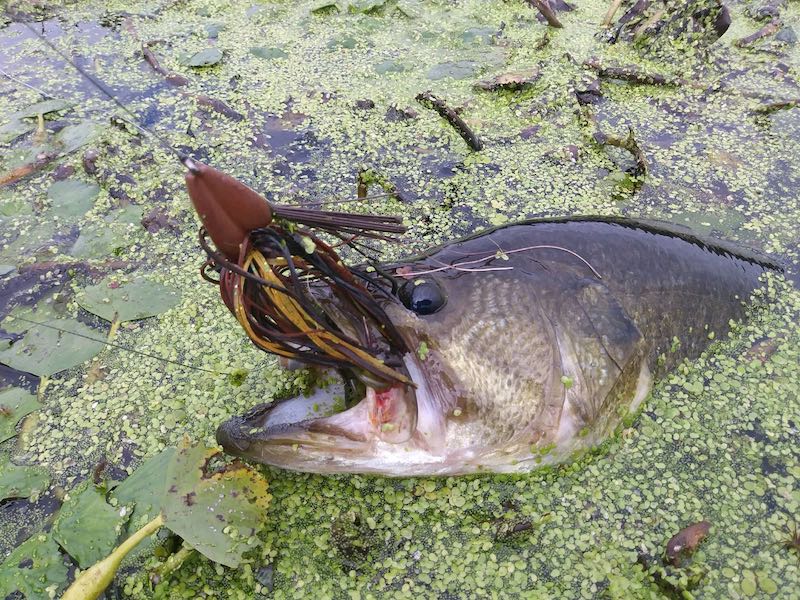 You might wonder why not just use a pegged plastic? Well the main reason is how much money it saves when you're doing a lot of punching. With a pegged plastic, right out of the gate you're dropping at least ten dollars on a tungsten weight. Then you need a hook and a bag of soft plastics.
One of the biggest downsides of punching soft plastics is how many baits your burn through. That style of fishing tears the baits up, but when you punch with the BiCO Bomb your trailers last way longer. It's not a low cost jig, but in the long run it will save you money.
Here's a video of the creator punching weeds with the BiCO Bomb:
---
BiCO Bug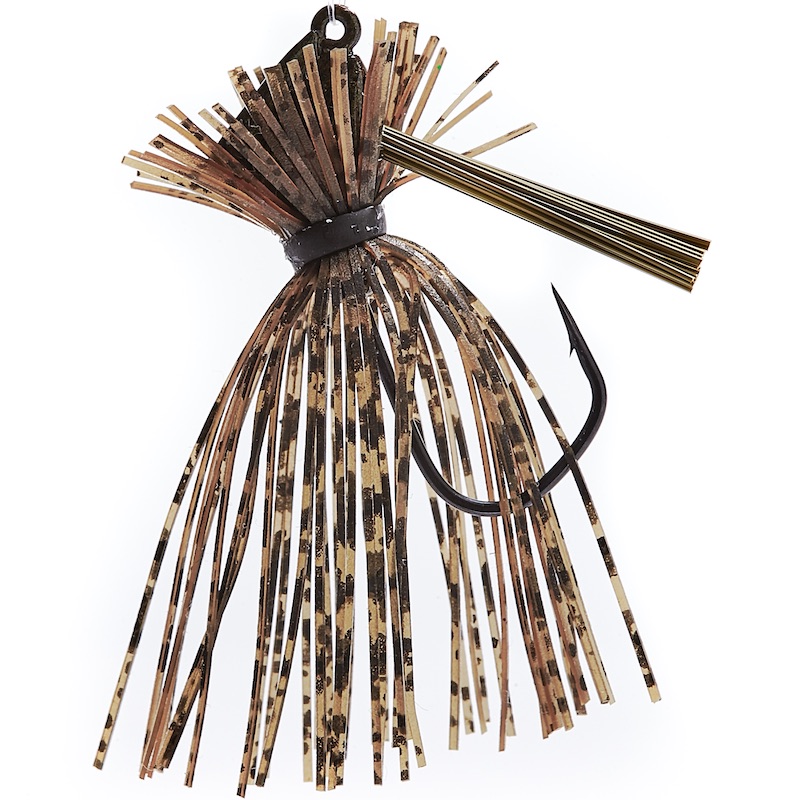 1/4 ounce • 3/0 hook
And finally BiCO's finesse jig, the BiCO Bug. This quarter ounce finesse jig is basically a shrunken down version of the Original BiCO Jig. It has a 3/0 hook instead of a 5/0 hook and dressed with a small finesse skirt.
The hook is what really makes this bait great. When you start getting in to finesse baits the durability really takes a hit. But this hook really has some backbone to it, so you can fish it around heavier cover than other finesse jigs.
---
Final Take
It's hard to find jigs that match up to the quality that BiCO Jigs bring. They're lead-free, durable, look great, and have Owner hooks. Those are all the boxes you want checked when it comes to a quality jig.
Plus the fact that you're getting a jig that was personally put together in the U.S. by a lifelong jig fisherman verses one put together by a random factory worker on an assembly line. The quality control is no contest.
If you're interested in trying one or two then the best place to buy is on Amazon, they're more expensive but the shipping is free, even if you don't have Prime. However, the jigs are cheaper when you order direct from bicojigs.com, so if you're ordering a bunch order from them. They offer free shipping over $50.