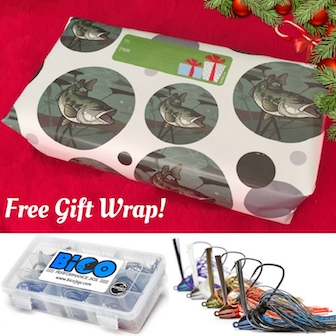 The Lucky Craft Gunfish Bait has all the high performance features of past generation Lucky Craft lures, with even more to offer. The splashing effect of the popper and the inviting walk the dog style action, this lure provides excellent results especially when the fish are feeling stubborn. The slim and tapered body of the lure results in a deliberate and tight walk, gliding across the top the water.
Unlike the most popular walk the dog lures, the zara spook and the zara pupyy, the gunfish has a cupped mouth like a popper lure. This added feature allows you to switch the action during the retrieve between walk the dog action and a popping action. It also causes the lure to make more spitting noise when thrashing from side to side on the waters surface.
The body of the lure is slim with a pointed tail that contains a tungsten resin weight system, which allows the lure to be casted extremely far, even in windy conditions. It also comes with a rattle chamber in the head of the lure and a knocking chamber in the belly, working together to create irresistible noise on the surface. The lure comes in four different sizes and over fifty colors, so it shouldn't be hard to closely matching the forage where your fishing. Check out the video below to learn more and see the lure in action.
Sizes:
Gunfish 75 – 2.9 inches | 1/5 0z.
Gunfish 95 – 4 inches | 3/8 oz.
Gunfish 115 – 4.5 inches | 3/5 oz.
Gunfish 135 – 5.3 inches | 1 oz.