Whether its for the holidays, a birthday, or something else, trying to find a good gift for a bass fisherman can seem like an impossible task to someone who knows nothing about fishing. There are so many different bass fishing gift ideas that might come to mind like rods, reels, and other tackle that it's hard to narrow down the list.
The contributors of this site are lifelong bass anglers that know the tackle inside and out, so we put together this helpful guide for those who are searching for a great gift idea for a bass fishermen. We figured most shoppers have an idea of what they're looking to spend so we structured them by price.
Under $10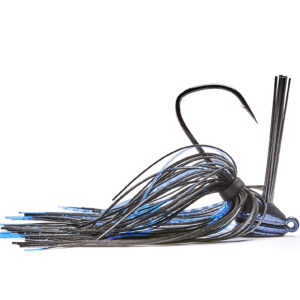 The vast majority of fishing lures are priced under ten dollars, but the better quality ones are closer to ten. For this price range our recommendation is the Original BiCO Jig. BiCO Jigs are one of the hottest lures right now because they've just recently become available nation wide.
The BiCO Original Jigs are the most popular style but they also have a couple other styles that are available on Amazon or can be ordered direct from bicojigs.com.
Under $50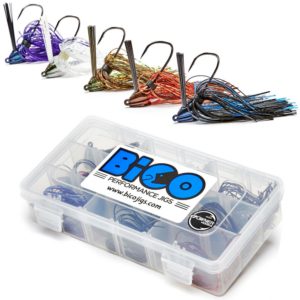 For under fifty bucks you can equip a fishermen with a very nice set of lures, and if you're looking to spend in this price range then we have to assume this person has some experience. Both items ship for free and are sets of lures that any fisherman would recognize as very high quality tackle. If you order the jig set from bicojigs.com and they offer free gift wrapping.
The Texas Rig Kit is tailored more for a beginner while the BiCO Jig Box leans more towards bass fishermen with a little more experience.
Under $100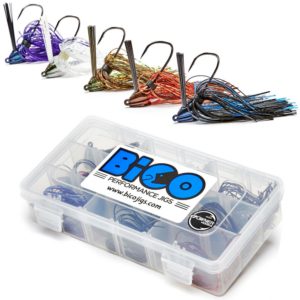 If you're spending upwards of $100 dollars on a fisherman then its pretty safe to say that they are not just starting out. Either one of these two suggestions will make an extremely happy fisherman, and they qualify for free shipping. If you order the jig set from bicojigs.com and they offer free gift wrapping.
If you're spending over $100 dollars on a fishing gift then you better ask the fisherman you're buying for what they want. At that price range you're getting in to rods, reels and other equipment that anglers are typically very specific on what they like. Again, that's what makes getting bass lures for a gift so great, no matter what they will be happy.
Every bass angler is different in their personal preferences and specifications in the equipment they use. Whether it's the length and action of a rod, the style of reel, or simply brand loyalty, avid bass anglers are very specific when it comes to their tackle.
Luckily for gift shoppers, when it comes to fishing lures there is no limit to the amount of variations a bass fisherman wants in their arsenal. Even if you get them a lure in a color or style they do not prefer, they will still be excited to add a new lure to their collection.
The average bass fisherman owns so many lures that some will never even touch the water! Yet they will continue to expand their collection. Bass fishermen absolutely love their lure collections, and never will the day come that they don't want to add to it, even if they're adding multiples of the same lure! It's always good to have a backup, is the logic behind that.
Lures make great gifts because you have a tremendous amount of spending flexibility. They are relatively inexpensive sold individually if you're looking for a small and less expensive gift life a stocking stuffer, or you can buy a set of lures as a bigger gift. And of course you can just buy as many lures as you want until you hit the desired amount you're looking to spend.
While all bass lures might look the same to someone who doesn't know fishing, there are definitely a lot of lures out there that are a complete waste of money. The goal of this page is to point those people in the right direction.